So it isn't often that I take up this topic however these past 48 hours have been interesting to say the least.
For that past 5 or so years if anyone would ask me my favorite band I would reply "Coheed and Cambria". Now on October 31st they had released "The Last Supper: Live at Hammerstein Ballroom" DVD. I didn't receive this until last night. About 15 minutes ago I checked their fan site Cobalt and Calcium and found the very depressing news that their drummer and bassist have both left the band. Now they had been on a bit of a hiatus from touring with the band and temporary replacements had been found. So no, the band is not breaking up; however the lineup which I've listened to since the middle of 2001 is no longer together.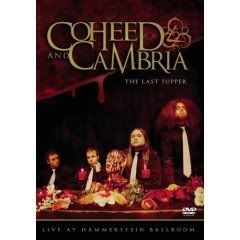 The Last Supper: Live at Hammerstein Ballroom – Coheed And Cambria – released 10/31/06
The band for as long as I can remember has had a phenomenal live show. That is the one reason I would jump at any DVD which they release. This one is no exception. Their concert is shot from many angles and the audio balance seems to be done quite well. In their previous DVD "Live at Starland Ballroom" it seemed as though there was more audio balance given to the instruments than the vocals, this is NOT the case with this DVD. Per usual they've got a bit of a jam session at the end of their last song, which happens to be The Final Cut. I would say that this DVD lacks tracks from Coheed's first album Second Stage Turbine Blade; however it is still a great example of their musicianship and their great live performances. I would recommend it to any Coheed fan.