Archive for the 'SEO' Category
Monday, November 16th, 2009
While in college I actually paid my rent from money earned online.  Now I wasn't making tons of money, but it was enough for a college student to pay the bills.  The perquisite to my method is patience and usually a bit of web know how.  My method for paying the bills was flipping websites.  Flipping Websites is the purchasing of a website, modifying and further developing the site in some manner, and selling the site for a profit.
Ideally I'd like to provide tips to individuals who are interested in this, however when looking most of the content I found was very low quality.  Mostly just individuals trying to make a few bucks "teaching how to flip sites."  Here is the process I used which worked well for me.  I'd flip a site over about 2-3 months.  Buy a promising blog, spend several days writing articles to post, and time-stamping the articles for the duration of the time I planned to own the site.  In addition I would work on making sure I had proper SEO plugins installed so that the site would do well in the eyes of the Google.  Normally after the period of several months a clear improvement could be seen in traffic and SEO rankings, at which time I would sell the site for a profit.
Actually I may need to purchase a site soon to develop a case study on flipping a site?
Posted in Blogging, SEO | Comments Off on How I've Made Money Online
Monday, November 9th, 2009
Help! It's the attack of the robots! Well, the robots.txt. I'm talking about the bots & web crawlers from MSN, Yahoo, Google, and the other search engines that come through everything time and again to check on your website. I'm sure you've more than likely seen them in your stats. Maybe you even thought they screw up your stats and skew them. Well here's the good news about the robots.
The more content you create, the more often the robots come back. The robots come back when new content is created so they can crawl through it and place your precious information in the right places in the search engines. So you are looking through your stats and noticing robots coming back more frequently, or looking back on past stats and seeing an abnormally high volume of hits from robots…. Great job! That means you created more than normal content and the robots are back.
Now when you create a lot of content not only do the robots come by more often, it means that you have more content that has been added to the search engines. More content for users to read, more content in search engines, these things more often than not pay off to you the creator of this content in the form of more visits to your site!
Now go attract those robots!
Posted in SEO | Comments Off on Attack of the Robots!
Monday, October 12th, 2009
Since the rise of the Twitter beast I've seen countless companies jump on to Twitter and claim to have a "social media presence".  Now Twitter is just one step and I can't take anything away from these companies for making an effort, however Twitter is just one of several tools that companies can utilize to make a move to add social media to their overall brand strategy.
If I were to suggest to a company how to setup an online brand the three tools I would recommend would be Facebook, Twitter, and a blog.  Facebook is NOT just for the tweens, Twitter doesn't seem to be lapsing after its 15 minutes of fame, and well blogs are here to stay.
Twitter is a perfect micro-blogging tool with built in search capability to keep an eye on your company in a global sense, also a great way to start and add to conversations that your company wants to be part of.   Also, Twitter is great for letting people know about new blog posts, or events coming up at your company.  Launch a new product or tool, make a tweet.  Make a new post on your blog, let your followers on Twitter and Facebook know.
Facebook.  Yes, that may make some people grimace.  The super social media behemoth isn't just for high school and college kids anymore.  With the ability for companies to create custom pages to promote and gain fans, Facebook becomes a must-have for companies looking to make their mark in social media.  Once again these custom fan pages are a great place to keep fans up to date on your blog posts and the goings on at your company.  If your company has a web developer on staff or you work with a web agency, it may be beneficial to try to use a Facebook Application called Static FBML to create customized tabs on your fan page to really make it stand out from the crowd.
Your blog.  If you don't have one, get one.  A company blog is the single best way to give your company a sounding booth.  If you just want to post about product updates or company events, that works.  If you have a member of your company who is a pundit or well known figure in your company's field, let them have a voice.  A blog gives your company a voice.  In today's internet, a company without a voice is silent.
If your company can correctly balance and use the three tools listed you should be able to start, influence, and be part of the global conversation.  Not only to these three tools help your company build a search engine presence but also helps to break down the wall between your company (your brand) and the consumer.
Posted in Advertising, Blogging, SEO, Social Networks | Comments Off on Social media and brand strategy
Wednesday, February 7th, 2007
Preface: In an effort to increase traffic to my site i'm actively monitoring my daily traffic for trends, fluctuation, etc. Now until recently I had relied only on Google Analytics to be my tool of choice. As of this past weekend I've begun using Awstats. What I've found in my short time using Awstats is that the numbers for my site were drastically different than what I was used to seeing using Google Analytics. That observation propted a few questions:
Might some users be missed by Google Analytics and seen by Awstats?
Perhaps Awstats is inflating my numbers?
Does Awstats count me as a unique user when I log in to tweak or post on my blog?
Which of the two is more accurate, and if neither are, what is a good alternative to get my desired data from?
Here are my numbers for 2/06/07: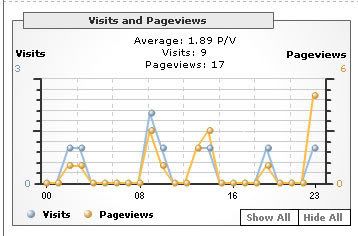 vs.
Ok let's compare these numbers now:
Visits – GA 9 AW 208.
Pages – GA 17 AW 650.
How am I getting a number of visits that is 23 times greater with Awstats than the number I got with Google? Why are my pageviews 38 times greater with Awstats than google? This perplexes me because it's not like its a difference of 30 pageviews or even 30 uniques, the difference is one value being about 30 times larger than the other!
A bit of investigation via Google got me some answers but not all. In regards to sites being missed by Google Analytics, I've found out that the use of the CustomizeGoogle plugin for Firefox allows users to block the cookie given by sites using Google Analytics. Why anyone would do this is beyond me. However, knowing that it is possible to block data from being sent to Google Analytics it can be assumed that stats from Google Analytics are potentially inaccurate.
Can someone please help me?
Posted in Blogging, SEO | 1 Comment »