Flickr set here.
Overview:
On Tuesday October 24, 2006 my Q1b which I had ordered from CDW finally arrived. My initial reaction was something similar to a child opening up Christmas gifts. The device came with the battery, hand strap, manuals, recovery CDs and a 3M cleaning cloth. (this little guy helps with the fingerprints!) I was really surprised at the brightness and clarity of the screen. I've watched several movie trailers now on the Q1b and the screen seems brighter than my laptop.
Pricing:
The UMPC cost $899, after tax and shipping I paid $967. Reasonable. My main gripe with UMPC's was that they needed to be below $1000 for me to be able to afford one. I guess $967 is as close as I was going to get.
My Impressions of the Device:
So far I've taken it to class a few times and am really impressed at how snappy it has been responding. On average I've found that I'm running between 36 and 39 processes, which I'd actually like to cut back a bit if possible. I've loaded up a few movies which seem to play back well. I say well because I'm no audio engineer; however the playback is clear, both visually and in terms of audio. I have also found OneNote to be incredibly useful after a short bout with the learning curve of using the touch screen. I've actually found myself just today browsing my professor's PowerPoint presentations after class while on the bus back to my apartment. I'd never done that with my laptop.
I've found myself using my Q1b downstairs in the kitchen of living room browsing email or the web while just sitting around. One problem I've noticed float tip doesn't play nice with Trillian even though I've made the changes to fix the IE7 bug which reared its ugly head earlier this week. In terms of resolution, I've most often kept 800×600 on most of the time. I've found it to be a happy medium for most purposes.
To conclude, I'm happy with my (rather expensive) purchase. The device is serving my needs and I couldn't really ask for much more. I would like to try out a few things in the future; I'm not much of a gamer; however I would like to try to install a game or two to try on the Q1b. Also I would be interested in possibly installing an in car setup in my Civic, so that I wouldn't get quite so lost on some of these Michigan highways. Also Vista awaits in the future. I'm sure I'll be writing about that adventure when I decide to embark upon it.
The Test Results:
Battery Testing:
Yes, I had a bit of trouble with Battery Eater so this is just rough times of battery life:
First Scenario: Brightness at 4 bars, WIFI on, OneNote, IE7, and Windows Media Player playing video on repeat
12:15am start
1:15 @ 66%
2:15 @ 37%
3:06 Device shut off.
Total Time: 2 Hours, 51 Mins
Second Scenario: Normal Monday at school, classes from 9am-12:00pm, OneNote, IE7, minimum brightness.
Q1b on at 8:40am
1 hour gone battey at 74%
2 hours gone battery at 53%
3 hours gone battery at 22%
Battery died at 12:14pm
Total time: 3 Hours, 34 Mins
3D Mark2001 SE Results:
(Results are with 128 video RAM set in BIOS)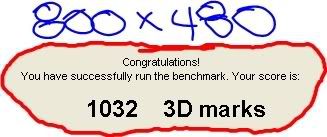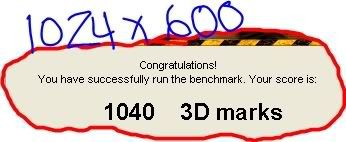 OSMark Results: (graph)
PlatformName	VIA C7-Esther (C5J) 1000MHz
DateTime	10/26/2006 5:31:14 PM
CPU	VIA Esther processor 1000MHz
CPUVendor	CentaurHauls
CPUFamily	6
CPUModel	10
CPUStepping	9
CPUWinMHz	1000
CPUClockSpeed	1000038368
CPUFSB	-1
CPU Count	1
Virtual CPU Count	1
L1 Data	64
L1 Instruction	64
Trace Cache
L2	128
L3
Chipset	UNKNOWN
Chipset Driver	UNKNOWN
Graphics Adapter	VIA/S3G UniChrome Pro II IGP
Graphics Driver	6.14.10.0309-16.94.46.02
Memory Type	UNKNOWN
Memory Speed	-1
Memory Amount	382
Hard Drive	HTC426040G8CE00, Size: 40.0 GB
Motherboard	SAMSUNG ELECTRONICS CO., LTD., Model SQ1BS
Motherboard BIOS	Phoenix FirstBIOS(tm) Notebook Pro Version 2.0  01EA, Version: P
Video Resolution	800x480x32@60Hz
OS	Microsoft Windows XP
OSVersion	5.1
OSBuild	2600
7zip	230
AlphaBlend	165
AlphaDots	326
BandwidthBP64	204
CalculatePi	275
Circles	842
DhrystoneThreads	320
Ellipses	357
EncryptDecrypt	577
FernFractal	310
FibThreads	310
FileCopy	90
GridBlast	533
GridBlastFP	529
IThreads	186
ImageResize	380
ImageRotate	951
JpgDecode	167
LameMp3Encode	125
Lines	486
LorenzAttractor	106
Mandelbrot	468
Mazes	379
MemLatency	596
MontgomeryMultiplier	710
nBody	127
nBodyOpenGL	39
OThreads	163
PiThreads	144
PlotLines	1265
PlotTrig	650
PlotTrig2	110
PNGOut	184
RandomDots	425
Rectangles	417
RichEdit	257
SHA1	1064
SHA256	2638
Sse3	297
UPX	179
WebPageLoad	272
WhetstoneThreads	131
ZipCompress	220
OSMark	423